LIGHTING TECHNOLOGY MEETS EYE COMFORT
p.forty is the master of mounting types: hardly any mounting method isn't applicable and so its areas of application are diverse.
The discreet profile luminaire with high visual comfort is also available with a variety of different diffusers: satiné, microprismatic, asymmetric – hardly any wishes remain unfulfilled. In addition, insets (anto+ and zenit S) can be used to set visual and lighting accents.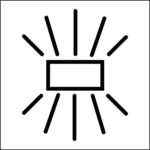 Direct / Indirect lighting
In the usual PLANLICHT manner, there is a choice of countless colour combinations (housing, insets, cables), direct or direct/indirect lighting and various light outputs such as dynamic white (HCL).
p.forty is also optionally available with an integrated daylight and motion sensor as well as a battery-operated emergency light.
Dynamic White (2700 – 6500K)